Born: December 5th 1890 in Tondano, Minahasa, North Celebes, Indonesia.
Died: June 30th 1949 in Jakarta, Indonesia.
---
Highlights
Name
DR. Gerungan Samuel Saul Jacob RATU LANGIE,
or to most people: "OOM SAM".

Religion
Last Position
GUBERNUR SULAWESI (1945 - 1949), Negara Republik Indonesia
Governor of Sulawesi (Celebes) 1945 - 1949 of the Republic of Indonesia.
Ir. Soekarno's Decree of 22 August 2605 (1945)
Current Status
PAHLAWAN NASIONAL REPUBLIK INDONESIA
National Hero of the Republic of Indonesia
Awards
Bintang Gerilya
Bintang Mahaputra
Satyalencana Perjuangan Kemerdekaan
About his Life
Quotation
References
His Ancestors
His Descendants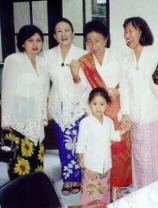 Links